The film 'Paris is Burning,' 1991
This documentary, filmed by Jennie Livingston in the 80s, records the LGBTQ's underground lives in New York City, with spotlighting on the 'Ball' culture [1]. As it has been widely discussed from positive acclaim to severe criticism (i.e. the Feminist Bell Hooks regarded it as too subjective and questioned the director's 'outsider' view [2]) since it released, I won't focus on the director's narrative nor a filmmaker's responsibility. Instead the practice of spaces and their gender identity is the reason why I think this film is attractive.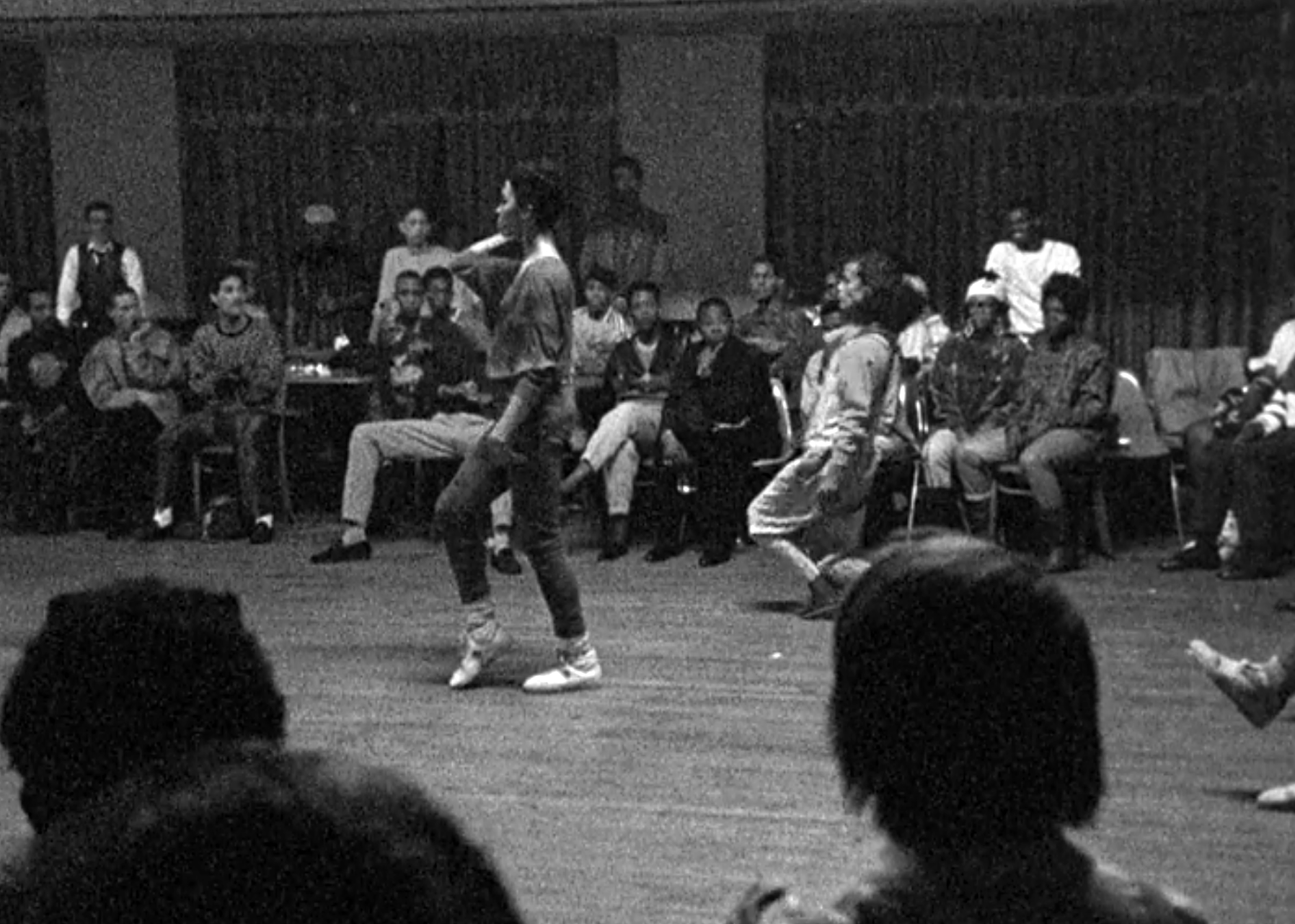 Looking through the lens provided by Livingston, it is fascinating to understand how these people transform a normal underground space in a building basement to a ritual place, a 'Place of Worship,' through gathering, walking (performance), etc. This mass and competitive event starts from the system of Houses (or families), named by different legendary Drag Queens who also act the role as House parents to provide guidance and teaching on these homeless young people. The Ball (a regularly gathering affair for these marginalised people to deliver performances and 'runway' looks), then, has become a public space for those families in the community, a stage space that different House members show their skills and styles, a ceremonial space defined by people's performances/activities rather than tangible columns, and a Foucault's heterotopia space for the people who are suffering in the outside world because of their identities. It proves Henri Lefebvre's ideas on the concept of 'space': "(Social) Space is a (social) product." Without those performance and social relationships (the social connection of each Houses and the common value of drag culture), the Ball space was just a bare basement. This unusual concept of producing space raised by Lefebvre could be better understood with the Japanese Architect Yoshinobu Ashihara's example.



Painting of Hanami in Goten-yama (御殿山花見之図), Utagawa Hiroshige I, 1847 - 1848(late Edo period)


In the book The Aesthetic Townscape, he mentioned the 'Hanami' (flower viewing) space during the cherry blossom season, with only a mat under the cherry trees and the behaviour of gazing the transient beauty of flower. The mat and the action of viewing produces a temporary space, and then the relationship among friends or families who sit on that mat defines the outside and inside space, as well as the sense of belonging and group. Through this way, a well-functioned space for the traditional Japanese custom has been produced.

Therefore, as a space can be produced so easily, what is the meaning of Architecture? For me, the answer is always to provide/improve possibilities for users and help them to satisfy their demands. Architects and urban designers cannot be the true maker of living principles – all of those knowledges of how to use space are created and developed by individuals from their everyday lives. Does a designer firstly create the form of a runway platform, or the semi-circle form of ancient Greek Theatre? After watching Paris is Burning, or just passing crowd of people that gather together on a square to watch a street show, you may find the answer.

I planned to talk about two kinds of practice in this film: Spatial practice and Gender practice. The former has been discussed in this text, but regrettably, there is no further time for the latter. In the film, scenes show some drag queens walking on the street, acting as a female. Their gender thus has been constructed by their 'perpetual performance' rather than their biological factors, which is argued by Feminist Philosopher Judith Butler [3]. These two types of practice share a similar idea, that is, the identity of an individual or the spirit of a place could be produced through practices.

Notes:
1 See more about the Balls, http://americanhistory.si.edu/blog/queens-and-queers-rise-drag-ball-culture-1920s , https://www.youtube.com/watch?v=AiZvCe6u4x8;
2 See this, https://my.vanderbilt.edu/wgs272/2013/02/bell-hooks-on-paris-is-burning/;
3 See more about Judith Butler and her gender theories

© 2022, All rights reserved..